By: Karen Canavan
It's always the season to shop local.
Temperatures have dropped and we now have to work our bodies a bit harder to warm up. This is why we are drawn to warmer, comforting foods in the winter opposed to the cool, lighter foods we crave in the summer.
This holiday season we suggest these three foods to keep your customers happy. Venison, one of the most sustainable red meats you can eat. Apples, the only seasonal fruit in Ireland during these colder months and chestnuts, the legendary holiday nut, a bit harder to find but so worth it!
---
Venison
Now is the time to buy venison as the animal is in top shape after a summer of grazing. You can source and buy venison from FX Buckley Butchers, Robinson Meats, Wild Irish Game, look them up on your app.
This red meat is rich in protein and iron and is perfect warm, wintery dishes. Venison is packed with vitamins B2 and B3, which help regulate metabolism and vitamin B6 and B12, which lower the risk of heart attacks and strokes.
Ingredients
1kg diced venison
20g dried porcini mushrooms
250g chestnut mushrooms (sliced)
75g smoked bacon lardons
Olive oil
20g plain flour
1 large onion (thickly sliced)
3 cloves of garlic (sliced)
2 carrots (chopped in large chunks)
2 parsnips (chopped in large chunks)
2tsp mixed spice
1 tbsp tomato puree
250 ml dry red wine
150ml beef stock
Salt and pepper
Half an orange
Method
Soak the porcini mushrooms in boiling water for 20 minutes, then drain (keep the mushroom liquid) and chop the mushrooms.
Heat a pan on medium temp and add the smoked bacon lardons. Cook until golden, put to the side.
Roll the diced venison in seasoned flour and mixed spices.
Use the same pan as the lardons and add a splash of oil. Add the venison in small batches, brown, then put to the side.
Add the onions and garlic to the same pan until softened, then add the carrots and parsnips.
Turn the heat up and add the tomato puree and red wine. Gently stir the vegetables. Add in the venison, smoked lardons, liquid from the porcini mushrooms, the beef stock and juice of the orange.
Bring to a boil then turn down to simmer on low heat, cover the pan and cook for an hour.
Add the sliced mushroom, cover the pan and continue to cook for another 30-40 minutes.
Serve with creamy mash and a few steamed vegetables.
---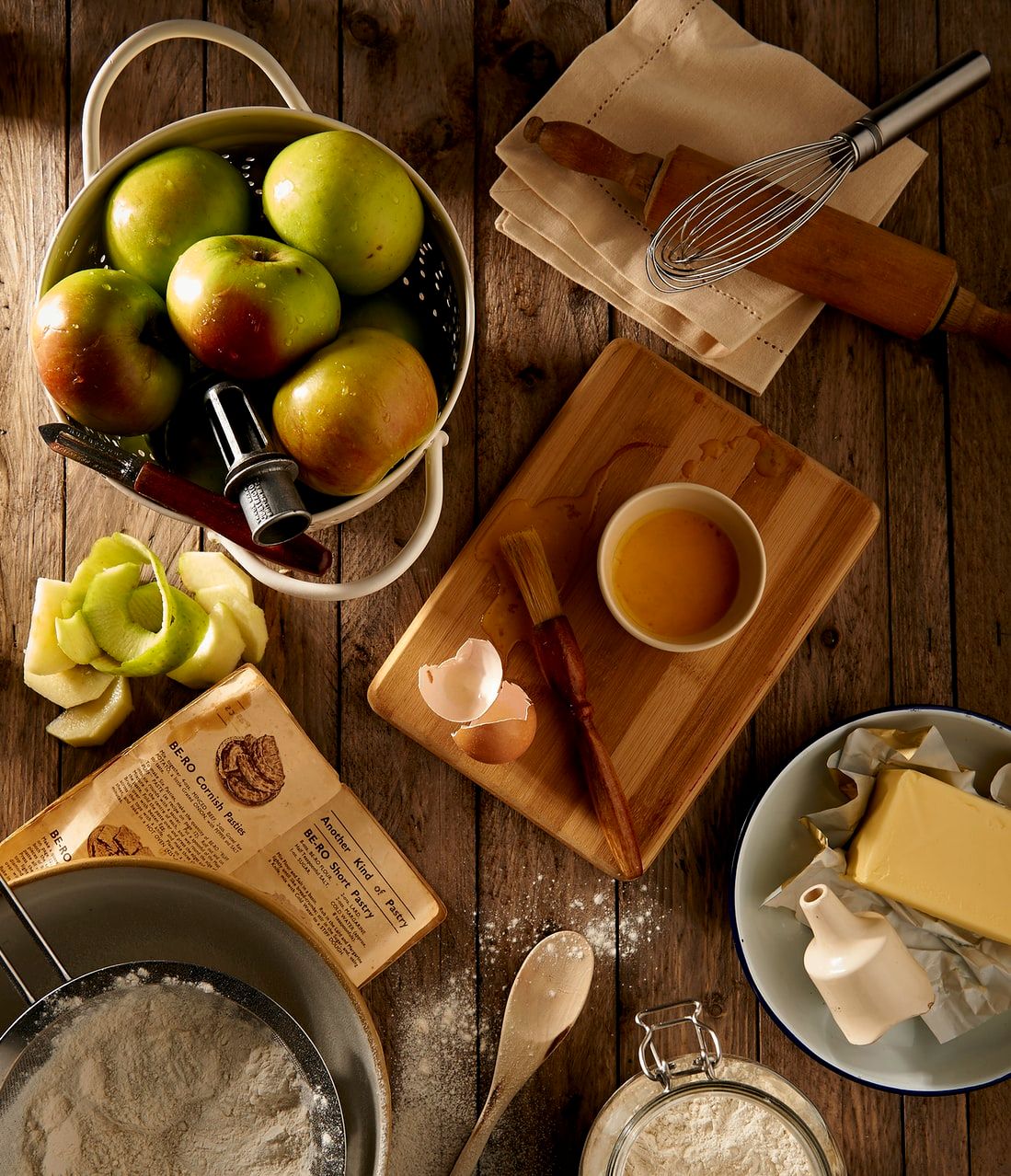 Bramley apples
Bramley apples have been growing in Ireland for over 3,000 years and are the only local fruit available during this season. Green in appearance but sometimes with specks of red, their flesh is white, juicy, acidic, and they are ideal for cooking.
The saying 'an apple a day keeps the doctor away', may be true. This acidic fruit is packed with flavonoids which can reduce the risk of cancer, heart disease and diabetes. They are full of calories, carbohydrates, vitamins and minerals which will keep you energized and alert in the winter months. You can source these apples from Jackie Leonard & Sons, find them on the app today!
To prepare your apples, peel and slice then squeeze lemon over the cut edges to prevent them turning brown if not using immediately. To store them keep in a cool, dry storage area for a week. Bramley apples are ideal for baking!
Ingredients
250g shortcrust pastry
50g ground almonds
4 large Bramley apples, peeled and diced
2 tbsp. sugar
250ml cream
3 egg yolks
50g caster sugar
Dash of whiskey
Method
Set oven to 200 degrees, line four individual tart tins with pastry.
Sprinkle a few ground almonds on the base of each tin, add in the apple and enough sugar to sweeten.
Heat the cream. Beat the egg yolk and sugar together. Then stir in the cream and a dash of whiskey.
Spoon a little of the cream mixture into each tart. Keep the remaining cream.
Bake tarts for 20-25 minutes. Pour the rest of the cream into a bowl. Then place into simmering water, stirring constantly until custard thickens. Set aside and keep warm.
Serve the tart, dusted with icing sugar, with warm custard.
---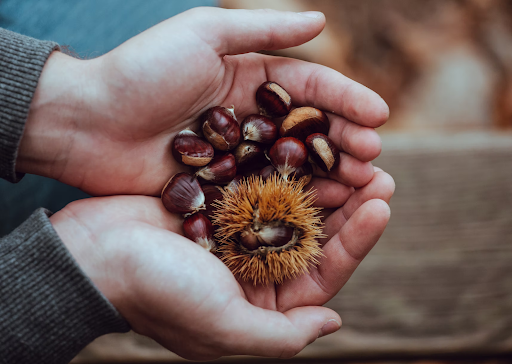 Chestnuts
Chestnuts are a perfect add to your shopping list this holiday season. These are starchy, nuts that are wrapped in a prickly burr that splits when the nut ripens and falls to the ground. The perfect chestnut is a healthy brown, has a hard outer shape, that is free of soft spots, mold or deterioration.
Chestnuts are lower in calories and fat than other nuts. They are a great source of vitamin C, vitamin B, copper and manganese. They also top the list of rich sources of antioxidants. Source your chestnuts from Keelings Select, they can be found on your app.
Chestnut Soup with chive and bacon
Ingredients
4 slices thick-cut bacon, diced (about 4 ounces)
1 tbsp unsalted butter
1 carrot, sliced
1 celery stalk, sliced
1 small leek (white and light-green parts only), split lengthwise and sliced
2 small shallots, roughly chopped
Salt and freshly ground pepper
1.2 litters low-sodium chicken broth, plus more as needed
500g whole cooked chestnuts
100g heavy cream
Crème fraîche, snipped chives, and grated nutmeg, for garnish
Method
In a large saucepan, over medium heat cook bacon until crispy.
Transfer bacon to a paper-lined plate. Remove all but one teaspoon of the fat.
In the same pan, melt the butter and add the carrot, celery, leek, and shallots. Season with salt and pepper and cook until softened.
Add broth and chestnuts to the saucepan. Bring to a simmer, partially covered, and cook for about 30 minutes.
Let cool for a bit, then puree in batched in a blender until smooth.
Return to the saucepan and add in the cream.
Season with salt and pepper again and ladle into bowls. Garnish with the reserved bacon, a dab of crème fraîche, chives, and a pinch of nutmeg.